With roughly 41 days left for the expiration of 180 days in the petitions
against Chief Willie Obiano of All Progressive Grand Alliance declared
winner of the November 2013 elections by the Independent National Election
in Anambra State and sworn in as governor in March, the star witness today
returned to the witness box in the third if such outings in one week, to a
testimony laced with contradictions.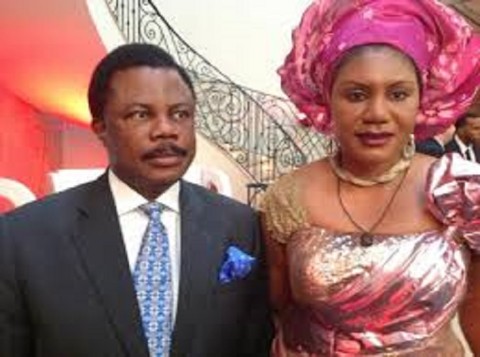 He was testifying in the case EPT/AN/GOV/04/2013 filed by Mr Tony Nwoye,
candidate of the Peoples Democratic Party and petition No
EPT/AN/GOV/03/2013 filed by PDP. On a day the tribunal rose , setting aside
Friday 23rd May,2014 for adoption of final addresses in the two petitions,
in addition to EPT/AN/GOV/02/2013 brought to the tribunal by Senator Dr
Chris Ngige and his party , All Progressives Congress.
All three cases have been consolidated at the hearing, while another
petition brought by an Dr Chike Obidigbo, APGA member and claimant to the
candidature if the party is standing alone. The tribunal has reserved
judgment in the Obidigbo case, after parties adopted their addresses late
Wednesday evening.
Chief Obiano under cross-examination from APGA Counsel, Patrick Ikwueto,
SAN told the tribunal that he was not in Anambra State during the INEC
display of voter register.However under cross examination Obiano said he
applied fod the transfer of his Lagos registration particulars in the
office of the Electoral Officer fid Anambra Eat LGA,Mr Nsofor at a period
which coincides with the period of INEC voter display.
A visibly shaken Obiano confessed that he signed and thumb printed Exhibit
P.402 which on the face value is an application for registration under the
CVR programme. Yet the embattled governor who virtually spent the entire
day in the witness box, claimed it was his transfer form.
Obiano emphatically claimed to have made the ' transfer, on 19th
August 2013 and followed up on 21st August 2013, on which day had claimed to
have completed a form which has been admitted in evidence as Exhibit
P.402.INECvoter display in Anambra State took place from 19th August to
26th August 2013.
Obiano admitted under further cross examination conducted by Den Nwigwe,
SAN on behalf of Nwoye that he did not state the date of the voter display
and continuous voter registration in his pleading declaring, 'I do nit
recount stating dates in my reply to the
petition
Details of Cross Examination of Chief Wiliie Obiano in Petition No
EPT/AN/GOV/03/2013 as conducted by Den Nwigwe , SAN Counsel for Comrade
Tony Nwoye went thus:
Q : If a man was 55 in 2011, how old would he be this year
A: The age will be 59…(uproar in tribunal)… sorry for clarification, it
is 57.
Q: It is no longer 59? It is now 57?
A: it is 57
Q: Apart from signing the document in (Exhibit comprising Obiano's CVR , you
also thumb-printed it?
A: I can see what looks like a thumb-print
Q: Did you thumbprint it?
A: Because it is a long time, I do not remember, but there is something
that looks like a thumbprint there
Q: You filled the form in your own hand-writing?
A: Yes for Section 1
Q: Your application was stamped received on 2nd September,2013?
A: I completed it on 21st August 2013, with an application addressed to the
Resident Electoral Commissioner (REC) in Awka.I did not submit it in Awka,
rather, I submitted it in the office of the Electoral Officer (EO) in
Q: Was it stamped received on 2nd September,2013?9
A: Yes
Q: In your answer to questions from the 4th Respondants(APGA's) Counsel you
said that under-aged voters did not vote in your polling unit.How did you
know if they were underaged?
A: At the age of 59, I can tell when I see an infant. Idid not see any
infant vote
Q: Did INEC extend an invitation to you as a stakeholder to attend its
stakdholders meeting?
A: Yes
Q: Would I be correct to say that because of hitches, INEC declared the
elections inconclusive in 202 polling units
A: I do not recall the number of polling units
Q: I put it to you the the governorship election of November 2013 was
invalid
A: I do not subscribe to that language
Q: I put it to you that yiu were not qualified to contest the election
A: I disagree! I was very qualified
Q: I put it to you that the election of November 2013 was vitiated by acts
of non-compliance
A: That is English Language, I do not seem to understand
Q: Too meni mago-mago dey for the election
(General laughter)
Q: I put it to you that the election of November 2013 was vitiated by acts
of non-compliance
A: I disagree!
Q: in reply to Suit no FHC/ABJ/CAC/412/2013 instituted by Ikegwuonu in
Abuja, you intended the tribunal to use it.
A: I filed it for the truth. I filed it so that the truth will be known.
Q: I am putting it to you that preceeding the governorship election of
November 2013, you had three registrations in the INEC register
A: I do not agree
Q: I am reading out the VINs (Voter Identification Numbers) so that you can
properly deny.The VINs are 90F5B12B88377091121, 90F5B15E7D378200332 and
90F5B12B01296204172.These are your registrations in the INEC voter register.
A: To be precise in answering that question , since the numbers contain too
many digits, if you look at the end of the numbers, my VIN number ends
with ..332.That is the only card I have.
Q: In your reply to the petition you did not state the date of the INEC
display of voter register in Anambra State
A: I do not remember.I cannot recall any date
Q: Did you state the date of the IE display of voter register in your
pleadi gs whike replying to the petition.
A: I cannot recall putting any date
Q: You are Christian
A: Yes
Q: You attend church on Sundays?
A: There are chrisyians who attend church on days outside Sunday.
Q: Take a look at Exhibit RRA 024 (Form for application for voter
registration under Continous Voter Registration,CVR).Pls confirm your
signature in the document
A: This appears to be my signature.
Q: At the time you were filling the document, you intended it to be used
A: Yes based on the advice of the EO that I shoukd write an application.
Q:: At the time you were completing the document, you were a candidate
A: If you describe me as an aspirant then, you will be right.
Shortly befire the tribunal reserved judgement in Obidigbo petition,
Onyechi Ikpeazu, SAN, Counsel for Obiano, Ayotunde Ogunleye, Counsel fir
INEC, and Ikwyeto had asked the court to dusmiss Obidigbo's petition for
lacking in merut having oroved that the petitioner is qualified to be the
candidate of APGA or that the 1st Respondent (Obiano) is not qualified.
Counsel for the oetitioner, Nzeoba Maduabuvhi, however averred that
certified true copies of dicuments bearing Obiano's four registrations is
conclysive proof of the offence, urging the tribunal in the co text of and
within the limits if its juridfuctiin dusqualify Obiano as candidate in the
Nov 2013 election, cancel the elections andrecommend the criminal
prisecution of the candidate for contravening #Section12(2) of the
÷Electoral Act.
Maduabuchi also urged the tribunal tk strike out the finall address fiked
by INEC as incompetent because whike it is dated 19th April, 2014, the case
closed on 2nd Nay,2014, noting that the proper pro edyre us for INEC which
called no witness to file their address after the clsure of the case and
address the court after the petitioner, but since they fsed to do so, the
address should be struck out and expunged from the recirds, while the
tribunal shoukd consider the address of the 1st Respondet ,Obiano.